The autism community is focused on an issue of great importance right now — the definition of autism in the to-be-published 5th edition of the Diagnostic and Statistical Manual for Mental Disorders (DSM-5). For those who aren't familiar with the DSM, it is the "Bible" of mental health professionals everywhere for diagnosis of "psychiatric" disorders.
There are proposed changes to the definition of autism in the DSM-V that are currently under review and open to public comment. The changes seem pretty dramatic on their face — Asperger's Syndrome will be deleted and subsumed under the umbrella of "Austism Spectrum Disorder" ("ASD") Under this same umbrella will be what is now known as HFA, or high-functioning autism, and Pervasive Developmental Disorder ("PDD"). What will be moved out of the DSM-V entirely are genetic disorders with a known cause that sometimes have autistic features, such as Rett Syndrome, Fragile X, and Tuberous Sclerosis.
There have been thousands of comments received already, and the comment period is open until June. People without much reason to know this information (we call them Neurotypicals or NT's for short) wonder why this is so important. Of course, if you ask different people you will get different answers, but my best effort at summarizing it is that many people diagnosed with Asperger's will not meet the new criteria for ASD and will fall into a new diagnostic category, or fall out of having a diagnosis altogether. This problem, referred to as "same child, different diagnosis," threatens to create confusion on the entitlements to specific therapies and educational services people receive.
Theoretically, it should not matter. People receive specific educational services because the law requires that each person with a disability has an individualized education plan and the specific education that they receive is tied to what works for them and is not anchored solely by a diagnostic label. Those of us who have children with IEPs know, however, that theory is not practice.
One asserted reason for the definitional shift is that many individuals with Asperger's take issue with the terminology surrounding autism as a "disease" that needs to be "combatted." That criticism is well-taken. I think I heard it said best by John E. Robison at one of his lectures. He said that he had issues in trying to pass the Combatting Autism Act because he didn't feel autism was something like cancer, that had no real value to the person who had the cancer. He valued his autism and thought it brought him many opportunities he would not have otherwise had. The solution, he said is to mitigate the the disabilities that autism may cause. In some people, unfortunately, autism causes a lot of disability.
I'd like to advance the radical notion that it is time to remove autism (in its many forms) from the DSM entirely. Although it can have many behavioral manifestations from avoidance of eye-gazing to outright aggression, it is primarily a neurological condition and not a psychiatric one. I am continually amazed that Alzheimer's disease is also still in the DSM. A psychiatric disease, like depression, may interfere with your desire to get dressed in the morning, but autism may interfere with your ability to do so.
It is not my intention in taking this position to enforce the unfortunate social stigmas surrounding many of the traditional diagnoses in the DSM. The reasons I believe autism has no place in the DSM are: (1) unlike classic psychiatric conditions, there is no place for talk therapy in treating some of the core disabilities of autism; and (2) removal of autism from the DSM will focus us on the underlying cause of the condition and bring greater scientific rigor to the process. What is the basis for removing all of the other "autism-like" conditions from the DSM, like Rett's, that have a known genetic cause, but not removing autism itself? Aren't all of the other cases of autism just undiagnosed genetic/environmentally caused, but by a mechanism or mechanisms we don't understand? Why is autism primarily an educational problem and not a medical problem?
This difference, although seemingly subtle, could cause a shift in thinking for the better. Particularly in the way that autism is perceived by the public. We're all familiar with the ignorant rants of people like Michael Savage. But there is much more benign and harmful ignorance, if you will, that is just as detrimental to the understanding of autism.
I could provide many examples, as could anyone who has autism or loves someone with autism, but I will recount one that is particularly painful. Some time ago, when my daughter was being diagnosed with autism, I went through a period where I was particularly devastated — I had multiplied the number of special needs children I had by two. At the same time all of this was happening, I was also up for a promotion at work. Great timing, I know. In any event, in the law firm world, promotions are generally handled by committees and a memorandum is written supporting that person's candidacy. I was particularly busy and didn't have time to arm myself with information, but that memorandum is generally reviewed by (if not drafted by, with editorial approval of the authors) the candidate himself or herself. My superior lied to me and told me it was not — he was going to write it and I could not see it.
Although that wasn't really in keeping with what I heard previously, I had other things to attend to that were more pressing, so I kept moving. Later, after I learned I was passed over for the promotion, I was talking with a colleague who told me the truth — so I went straight to our management and asked to see the memorandum. They gave it to me, of course, and could not understand why my superior had not let me see it. I figured it out pretty quickly. In the first several paragraphs that contained my basic biographical information, was the following sentence:
She also makes more sacrifices than others do to be here and do a good job every day. She has two young children, both with the same emotional disorder.
Hmmm. I guess he knew that if he wanted to put that information in there, I would want to remove it. Well, he was right about that. Of course, I felt betrayed by the revelation of such personal information without my permission. I could have looked past that, however, if he had bothered to inform himself that my children do not have an emotional disorder. My daughter does not dress herself not because she does not want to, she does not because she can't. My son has language processing problems that make expressing complex ideas difficult and frustrating for him. The hubris of a person who believes that they have any idea what my kids — or any children with autism, for that matter — go through every day in this world without spending time with them is fundamentally a narcissist. But to some extent, he held the incorrect perceptions he did because the methodology for diagnosing autism is set out in the same place (and is supposed to be performed by the same professionals) as anorexia or borderline personality disorder.
Again, none of this is intended to suggest that any psychiatric disorder is any less "real" than autism. Psychiatric disorders are very real, and so is cancer, but no one would advocate that you put the criteria for staging tumors in the DSM. We owe the people who are coming into this world in the thousands with autism the opportunity to be something other than the 1950s stereotype of the cold, anti-social, distant child.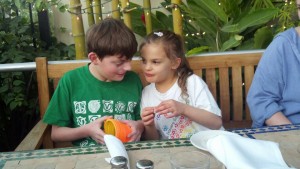 This candid snapshot was taken over the winter holiday by my husband of my children at a restaurant while we waited for our dinner to arrive. Do these people look like they want to be in this world alone to you?